Opening Session 3 June, 12:00
Chair: Robert Jahn
Messages: Gerald Steinhardt, Heinz Brandl, Pedro Marijuán, Magnus Ramage, Christian Fuchs, Kun Wu, Gordana Dodig-Crnkovic
Opening Speech: Wolfgang Hofkirchner
Wolfgang Hofkirchner Information for a Global Sustainable Information Society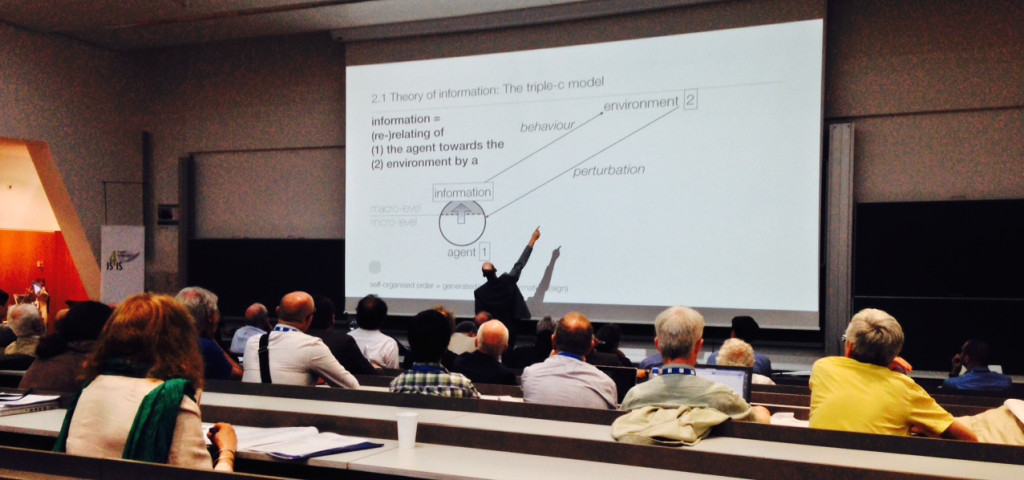 presentation (photo: Mary Jo Deering)
::
Information thinking big 1 3 June, 14:00
Terrence W. Deacon How information lost its meaning (and how to recover it)
::
Responsible Science? Meaningful Technology? 3 June, 16:00
Armin Grunwald Responsible Research and Innovation – Limits of consequentialism and the need for hermeneutic assessment
Panel on Information (and Communication) Technology from an ethical perspective: Armin Grunwald, Rafael Capurro, Gordana Dodig-Crnkovic, Schahram Dustdar
::
The "just" war: do military operations promote peace? 3 June, 18:00
Expert Discussion: Christina Binder, Michael Bünker, Pete Hämmerle, Claus Raidl, Thomas Roithner
::
Information thinking big 2 4 June, 9:00
Crossover between philosophy and science
Kun Wu The interaction and convergence of Philosophy of Information and Science of Information
Luciano Floridi Power in the information society
::
Information thinking big 2 4 June, 11:00
Crossover between natural and social sciences: The rise of co-operation
Pedro C. Marijuán From genotype and phenotype, to sociotype: the endless social communication
Günther Witzany Biocommunication and Natural Genome Editing – A new concept for the emergence of biological information
Manuel Bohn Human communication and cooperation from an evolutionary perspective
::
Global Brain and governance 5 June, 9:00
The Global Brain and the future information society
Francis Heylighen The Global Brain: a self-organizing, distributed intelligence emerging from the web
Dirk Helbing Creating a planetary nervous system as a citizen web
::
Global Brain and governance 5 June, 11:00
The future information society and its governance
Katharine Sarikakis The struggle for control over Communicative Spaces: creating, sustaining, resisting as tactics of information society governance
Zoe Lefkofridi Europe at the crossroads: Is economizing on democracy the way forward?
::
The Global Brain Institute Track "The Global Brain and the future of information society"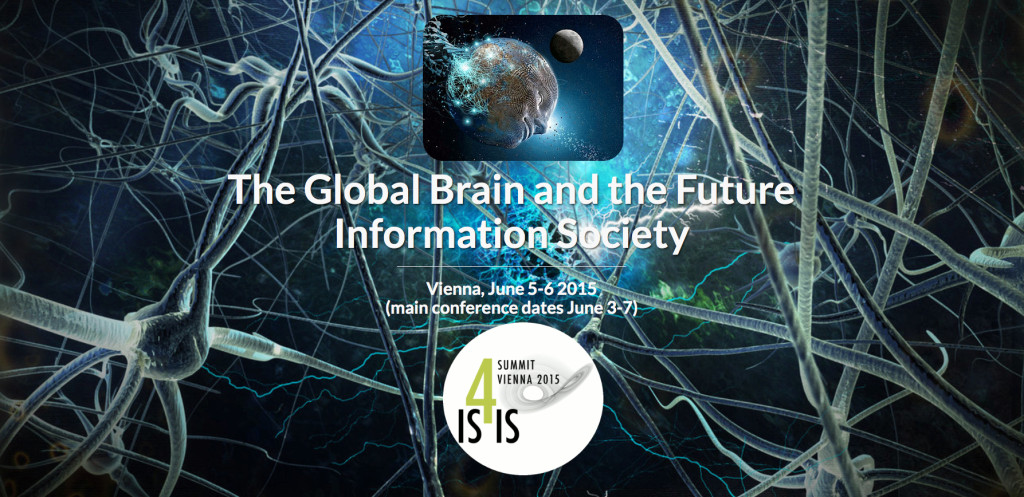 Video 1 | Video 2
::
Concert of Genetic Music 4 June, 20:00